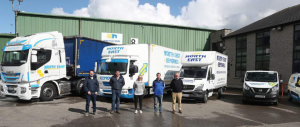 North East Space is a family run business based on a 10-acre premises in Tenure, Co. Louth. We offer a wide range of services, which can be tailored to suit customers' specific needs.
We often say that the biggest thing we can sell to our customers is Peace of Mind. The safety of your belongings is our priority – our gated premises is monitored 24/7, and we have a wide array of unit types with heating, ventilation and humidity control systems to ensure your contents are stored in optimal conditions.
Our convenient location, just off the M1 motorway makes your belongings easily accessible for customers based in Dublin, Belfast, Drogheda and Dundalk. What's more, our Smartcard system provides customers with 24/7 access, should that be required.
Our overhead costs are lower than those of Dublin based storage providers and we pass these savings on to you – by storing your items just 30 minutes up the M1, you can make significant savings due to our affordable rates.